In this article we will show you how:
To configure Apache to Bleemeo to automatically collect metrics with Bleemeo auto-detects
To configure a dashboard to better understand your server and what's going on:

An automatic dashboard
A custom dashboard
What is Apache?
The Apache HTTP server commonly known as Apache was officially released in 1995. Nowadays is one of the most popular HTTP servers on the World Wide Web. Many organizations such as Facebook, Cisco, IBM, and of course Apache Software foundation itself uses it. It's an open source web server, maintained by Apache Software Foundation. Apache is a cross-platform, even if the vast majority of server instances runs on Linux but some version also run on Windows.
How to configure Apache to Bleemeo?
Once the agent is installed, let's enable the metrics gathering so that Bleemeo agent could access Apache status.

Normally this should be done by default with Apache on Ubuntu or Debian but if not, you can enable it by running:
sudo a2enmod status
Default dashboard
Once Bleemeo agent has been able to access the Apache status module, a new default dashboard appears. This looks like: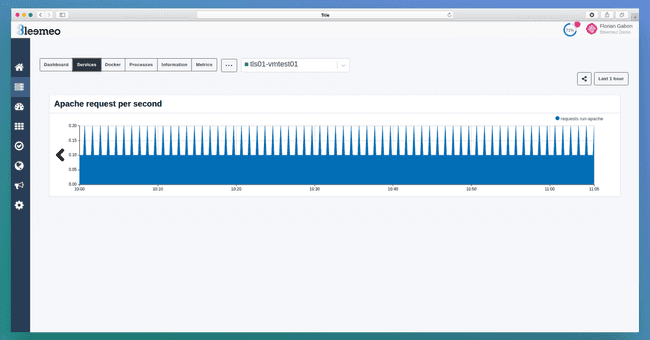 How to customize your dashboard?
Now let's see how to make custom dashboards that can better meet your specific expectations. For example, we will monitor metrics:
Number of client connections to Apache server run-apache
Number of request per second
Number of workers waiting for an incoming request
Number of workers processing a client request and Number of workers reading an incoming request. if you want more Apache metrics here is a link to our documentation.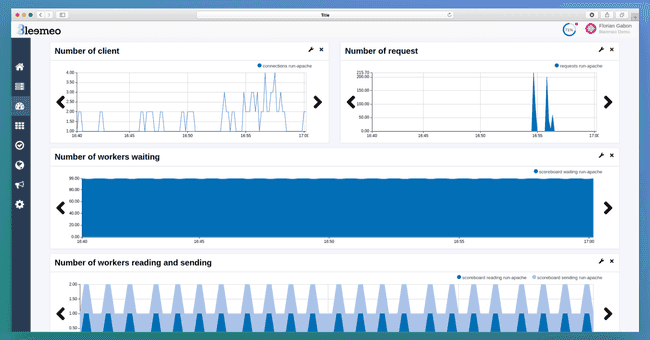 This type of dashboard allows you to better know when there are people connected and how many, and also what is happening on your server. You can also add other metrics, if you run your server on a docker for example you can add:
Status of Apache docker
CPU used by Apache docker
Memory used by Apache docker.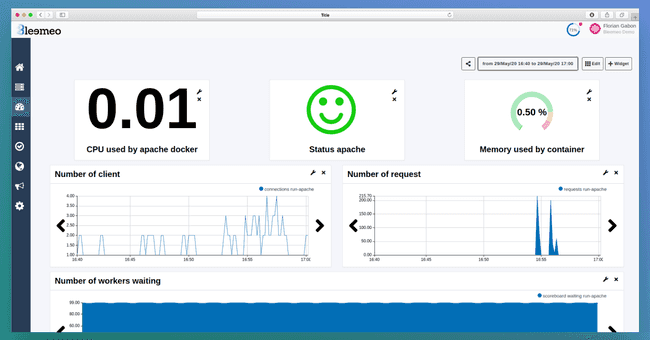 It will allow you to have a single dashboard for several types to monitor and therefore a dashboard is infinitely customizable, which can be useful for what you need exactly to monitor. With Bleemeo, in a few minutes you can start monitoring Apache metrics and creating custom dashboards.
If you don't have a Bleemeo account yet, start monitoring your Apache today in 30s.